We are thrilled to announce the release of a series of lessons designed to practice identifying, responding to, and de-escalating bullying. Our patented, immersive VR lessons give the Learner the opportunity to practice responding to a bully in a safe, realistic, and repeatable environment.
Not only are these new lessons the only ethical way to practice reacting to bullying in a role-playing situation, but they are also applicable to every school aged child you know! Floreo lessons provide the perfect forum for practicing these hard-to-teach and important life skills.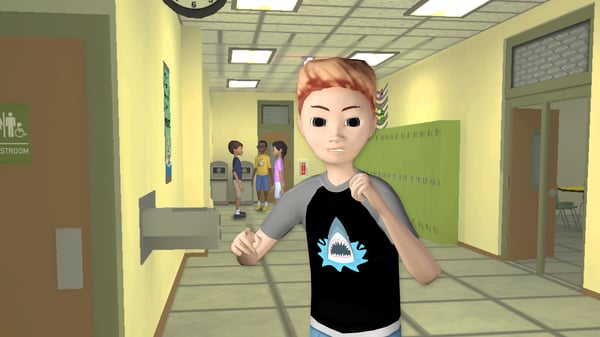 Recognizing and Responding to Bullying vs. Banter
Who it is for: Learners of all ages, but especially late elementary, middle, and high school age Learners
What's new: Help the Learner determine the best way to respond to different types of bullying — from banter to an imminent threat of violence
Consider using in combination with: one of Floreo's "Mindful Thinking" lessons so that your Learner can access some calming strategies when the bully approaches.
If you are already a Floreo subscriber, visit the iOS store to make sure you have the latest update that includes these compelling lessons. If you aren't already a Floreo subscriber, now is a good time to start! Simply reply to this email to set up time to discuss your subscription options.
Help us spread the word about these new lessons! Please consider sharing this link with your favorite educator, therapist, or parent of a school-aged child.