This summer has already been a busy one! We hope all of our supporters and customers around the world but especially those in the Western US are staying safe during this unprecedented heat wave! Our Snowfall sensory space is a great option to try to help take your mind off the searing heat.

It's almost time to upgrade to the new Floreo experience. We hope you'll love the new, more user-friendly app design, more lesson suggestions for Learners, new skill areas to address more goals, and of course, the 16 new lessons that are coming your way! Our lessons are clinically designed and can be used in therapy settings, classrooms (it's a great option for summer school!), camps, and at home with families.
If you want to be sure to get access to this new redesign and the brand new lessons from the very start, please contact us to discuss your subscription options right away.
---
HealthSpark Accelerator Update
JOIN VIJAY RAVINDRAN FOR DEMO DAY
Floreo Founder and CEO, Vijay Ravindran, will be presenting tomorrow June 30 as part of the HealthSpark Accelerator's Demo Day! This free virtual event is the culminating experience and showcase for the 12 week accelerator focusing on companies on the frontlines of innovation in rural healthcare. Register and join the virtual event to hear from the founders of some of the newest digital health technologies, including Floreo!

---
Stay tuned for our July release
SNEAK PEEK OF OUR RECOMMENDATIONS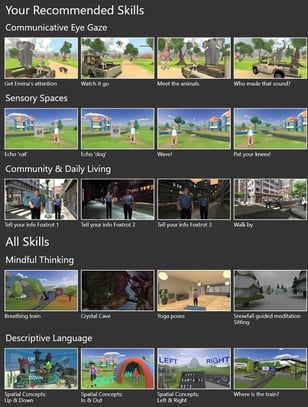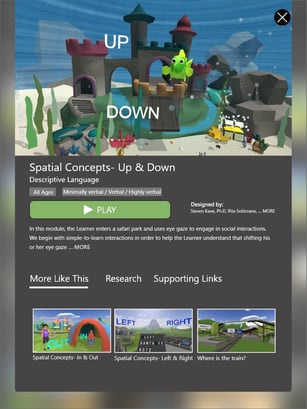 As part of our July redesign, we'll be unveiling our more powerful recommendations tool. As the Coach, you'll receive new recommendations based on your Learner's progress in each lesson to make it easier to decide which learning card to use next and continue growing your Learner's skills.

Do you have questions about our upcoming release? We would love to hear from you!
---
New Research Reveals How Parents Seek Advice When Concerned About Their Child's Development
A SUMMARY BY DR. GREGORY DOWNING
Dr. Downing of Innovation Horizons is a consultant to Floreo and a community pediatrician.

Delays in the achievement of developmental milestones (the age at which new physical or behavioral activities are observed in children) are among the most prominent concerns that parents have about their child. Often parents may not know where to go for advice or information about signs or symptoms that concern them. Many times it's a topic of casual conversation with their friends and relatives often as a result of comparison to other children in the family or social circles. While there are many sources of information in social media and internet about the features that parents can observe and address, often the sources of evidence is unknown or hard to understand. Researchers at the C.S. Mott Children's Hospital at the University of Michigan recently conducted a survey of parents with children of ages up to 5 years to learn more about the way they receive information about developmental concerns.

The results of their poll showed that parents feel either very confident (40%) or confident (50%) about knowing when children should achieve most of their milestones, with moms more likely than dads to be very confident (46% vs 33%). Most parents say they learn about the ages children are supposed to meet milestones from healthcare providers (80%). Other sources include family members (53%), the internet (45%), experience with their other children (44%), friends (37%) and childcare providers (28%).

These results are encouraging that suggest many parents recognize the importance of achieving milestones in their socialization, speech, and their play activities. It also shows that parents seek input from their health care providers. An interesting path of research to follow on this would be how health care providers react and provide information to parents about their assessments and observations. In today's environment, parents have many new tools and abilities to capture information through video technology and use applications to better connect with their providers for accurate and reliable assessments about their child's development. The findings from this research should be viewed that parents are keen observers of behavior and they should be encouraged to talk about their concerns with providers during well-child visits. Parents observations and concerns are very important signals in the spectrum pediatric care. Early engagement with providers about them is encouraged as increasing evidence shows that early detection of developmental delays can lead to interventions that provide better outcomes. The bottom line -- if parents have concerns, ask your provider about the observations and your concerns. More details about this research can be found at this information site on the CS Mott web.

Freed GL, Singer DC, Gebremariam A, Schultz SL, Clark SJ. Milestones: How parents understand child development. C.S. Mott Children's Hospital National Poll on Children's Health, University of Michigan. Vol 38, Issue 5, June 2021.
---
Research study opportunity
FROM OUR PARTNERS AT CHOP
Our partners at Children's Hospital of Philadelphia are recruiting participants for a compensated survey about autism and police. Please consider participating or sharing with others who might be interested!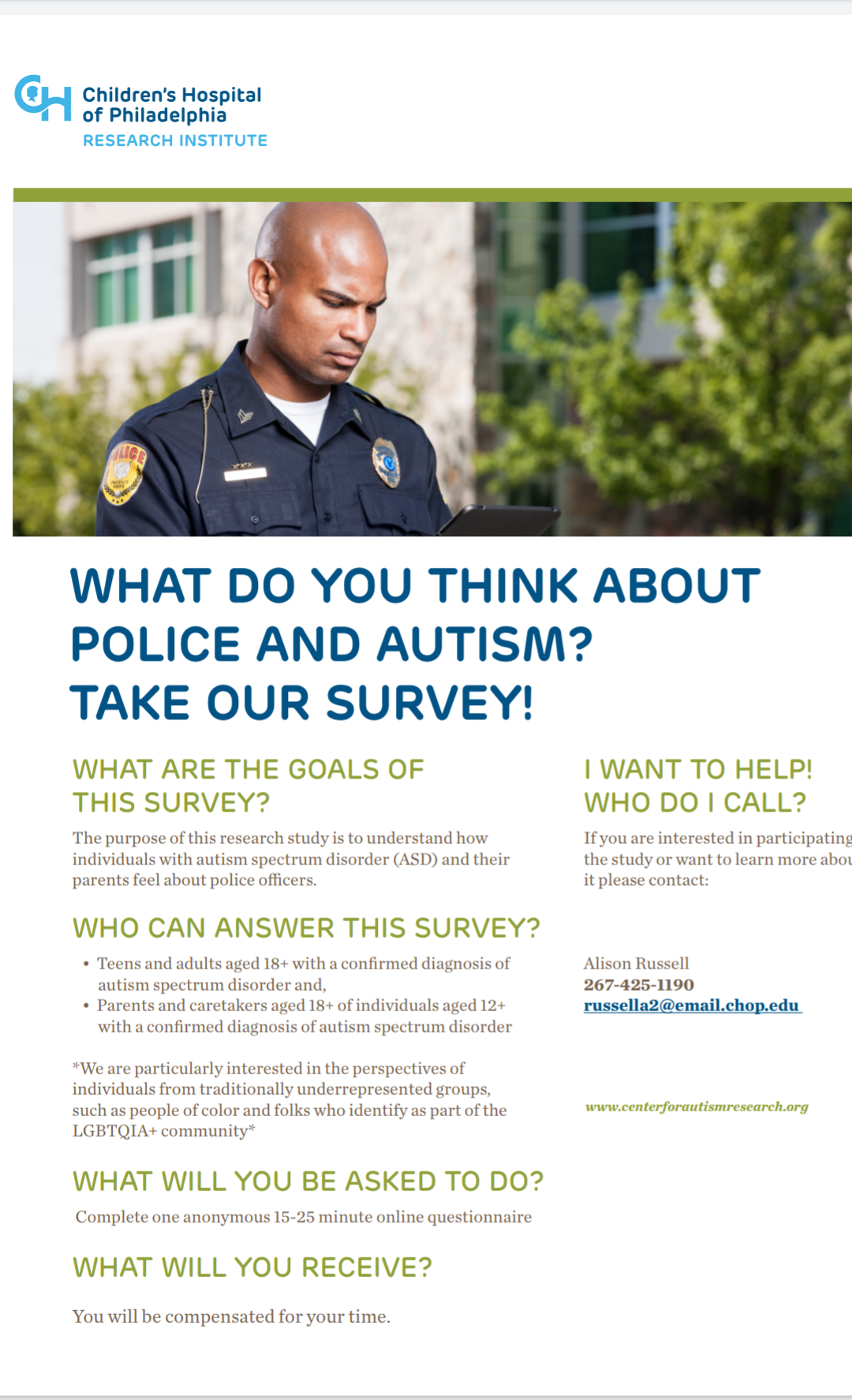 What have we been reading this week?
NEWS ROUND-UP