One of the pillars of the Floreo development process is that our clinical team ensures that our lessons are built upon evidence-based practices. With a robust team that includes a neurodevelopmental pediatrician, Speech Language Pathologist, BCBAs, and neurodiverse adults who all contribute to content development, we are committed to having the highest of standards when developing new lessons. For example, our Street Crossing experiences are built around targets as determined by curriculum established by the National Highway Traffic Safety Administration.
---

We are always interested in hearing from you: what lessons would you like to see us build? Don't forget to visit our lesson library to see what is already available for our customers. Our current experiences address a number of areas for skill building! Contact us.
---
Upcoming Events

FLOREO AT META'S TEACHER POP-UP EVENTS
We are pleased to share that we were asked to participate in Meta's upcoming pop-up events for teachers and administrators showcasing how virtual reality can be beneficial in an educational setting:
October 9 Las Vegas, NV
October 16 Brooklyn, NY
November 6 Naperville, IL
Let us know if you plan to be there too and don't forget to come say hi!
---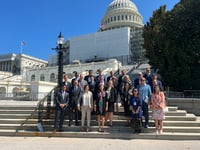 Recent Events

FLOREO AT DTA AND DTXEast EVENTS
Floreo Founder/CEO, Vijay Ravindran, and General Counsel, Denise Garcia, along with a group from the Digital Therapeutics Alliance including representatives from Pear Therapeutics and Akili visited Capitol Hill recently to meet with lawmakers about transforming global healthcare by advancing digital therapeutics. It was a wonderful opportunity to share more about the ways that solutions like Floreo can help improve patient outcomes.
Floreo also recently participated in a DTXEast conference, a digital therapeutics industry event to discuss the digital evolution of healthcare. It is a great forum to learn the latest from subject matter experts, industry leaders and to spread the word of the great things happening at Floreo.
---
Funding ideas

HOW CAN WE HELP YOU GAIN FUNDING FOR FLOREO?
We know that budgets can be tight and we want to help get Floreo into the hands of anyone who needs it! If we can help write up your DonorsChoose application (teachers) or provide information for a grant you have identified (anyone!) please let us know.
---
What have we been reading this week?
NEWS ROUND-UP