We are proud to be highlighted in a recent report published by The Information Technology & Innovation Foundation as an example of effective and engaging technology already in use in K-12 classrooms. If your school district or classroom could benefit from Floreo, please reply to this email to discuss our flexible subscription options (including rental equipment!).

Remember that Floreo has both in-person and telehealth options for our customers. If your school or clinic might be switching to remote learning/telehealth at some point in this school year, let's talk about how Floreo's lessons to teach social, behavioral, social and life skills can be incorporated into your routine to help. Read the Report here.
---
New Partnerships
THE FLOREO COMMUNITY CONTINUES TO GROW
A warm welcome to our newest partners: Northshore Autism Center (LA). We look forward to helping you serve the needs of your clients and community!
Are you ready to join the Floreo family? We would love to discuss implementation in your school, district, or practice!
---
Tools & Tips
MAKE THE MOST OF YOUR FLOREO SUBSCRIPTION
One of the most frequently asked questions we get as we talk to folks about Floreo is: "Will my Learner wear the headset?" We can almost always emphatically say: "YES!" In conjunction with our many partners and early adopters, we have developed a number of ideas and best practices for introducing the headset in an approachable manner.
We always recommend starting slowly with your Learners and checking in with them frequently to make sure they are feeling comfortable with all aspects of Floreo.
Check out this video for getting the headset ready for use with the Learner. Once you have the headset ready to go, watch this video for ideas for introducing the headset to even the most reluctant Learner.
Check out our Resources page which includes more supplementary materials such as, visual schedules, a pre & post test to make sure the Learner is ready for VR, and a daily checklist for Floreo use. We would love to hear what worked best for your Learner!
---
Research study opportunity
FROM OUR PARTNERS AT CHOP
Our partners at Children's Hospital of Philadelphia are recruiting participants for a compensated survey about autism and police. Please consider participating or sharing with others who might be interested!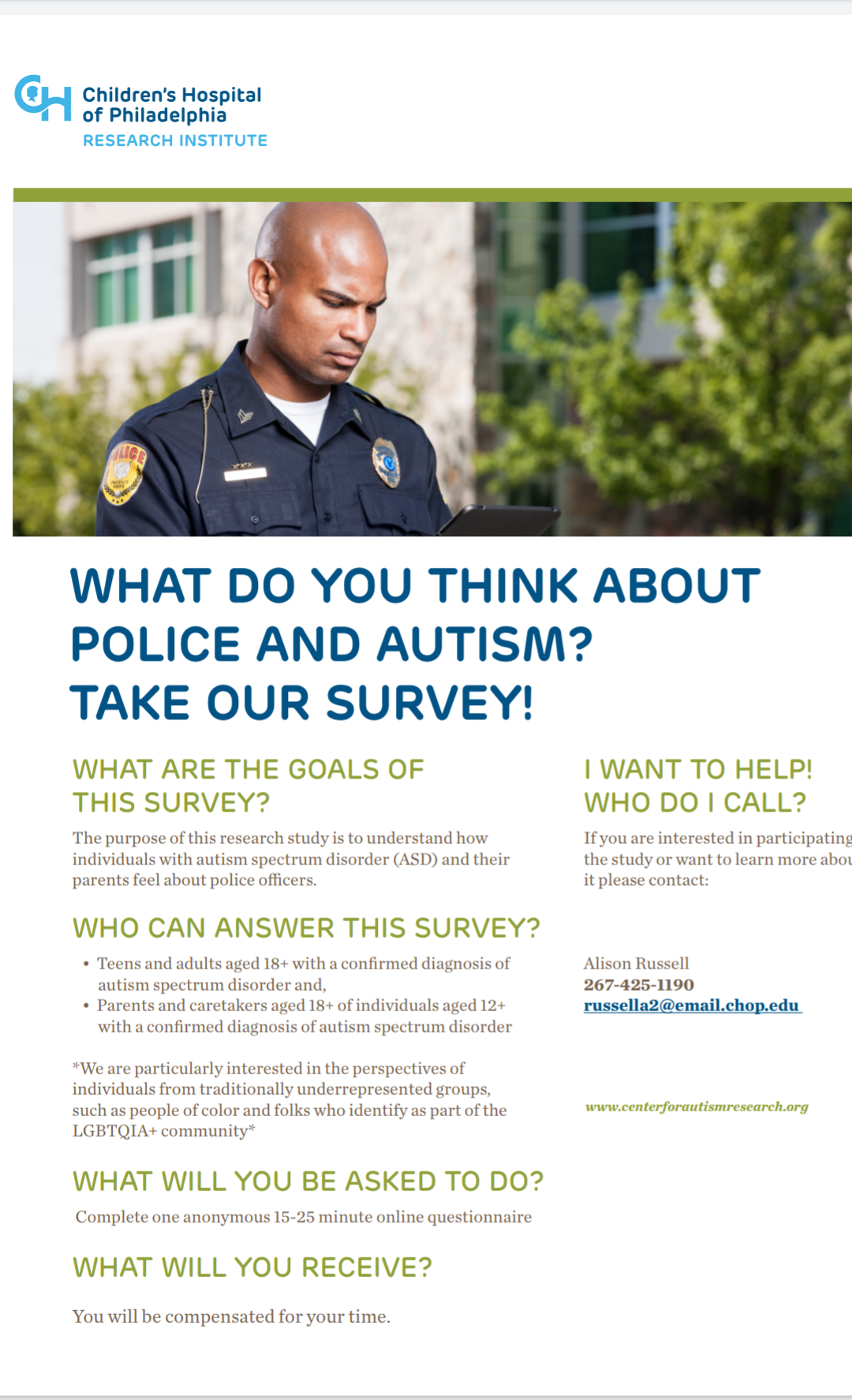 What have we been reading this week?
NEWS ROUND-UP