We know things are still very up in the air! If you find yourself in a telehealth or remote learning situation, remember that the benefits of Floreo can be fully deployed in a remote setting. If your organization is looking for a remote or hybrid solution, we would be a great fit! Or, if you are back to in-person therapy or education, Floreo can be a fun and engaging way to help your Learners work on social, communication, behavioral, and life skills.

From working on joint attention related skills to practicing a routine to safely cross the street or practicing complex interactions like recognizing and responding to bullying situations (and everything in between!) there's something for everyone in our lesson library. We would love to talk with you about implementing Floreo in your school, district or practice.
---
Floreo in the news
BULLYING & AUTISM
Author, Floreo advisor and Lead Self Advocate, Sam Farmer, was recently featured on The Autism Weekly podcast to talk about how to rise above bullying. Sam's empowering advice can help in all kinds of different scenarios.

Check out the podcast and don't forget to practice recognizing, responding to, and diffusing different types of bullying situations using Floreo's suite of banter and bullying lessons!
---
New national report charts the status of autism services and mental health
A SUMMARY BY DR. GREGORY DOWNING
Dr. Downing of Innovation Horizons is a consultant to Floreo and a community pediatrician.

The A.J. Drexel Autism Institute has just released a federal sponsored national study, National Autism Indicators Report: Mental Health, that provides key insights into the current state of services and makes recommendations for action. Mental health diagnoses occur at substantially higher rates among children, youth, and adults on the autism spectrum. This report is among the first to compile data across multiple sources to show where research, policy, and practice must push further.

Among the key findings noted are that 39% of autistic children took medication in the past 12 months for difficulties with emotions, concentration, or behavior. This percentage was much higher for autistic children with certain co-occurring conditions, including depression (79%). In a study of adults enrolled in KPNC, autistic adults had higher utilization than peers of psychotropic medications, with nearly two-thirds of autistic adults (62%) taking a psychotropic medication in the past year. Autistic children with unmet need for mental health care were the least likely to participate in sports teams or lessons (25%) and in community service or volunteer work (12%) compared to children who had no unmet need for mental health care.

National studies of this type are valuable in shaping objectives for improved services for children, adolescents, and adults. Among the policy recommendations the report concludes are:
Expanding access to care through telehealth services to address acute mental health needs of patients and families. The report cites recommendations by the Commonwealth Fund that advocates for expanded telehealth mental health services.
Portability of for a licensed professional to provide services in a state other than the one in which they are licensed. Mental health providers are typically limited to practice within the state where they have been licensed, and laws and professional practice requirements limit the degree to which that licensure may be transferable to another state.
Integrating mental and behavioral health care into primary care. The report notes that insurance plans sometimes "carve out" mental health care, which means those services are contracted to another insurer that has its own network of providers. When these services are carved-out, primary care providers are not reimbursed for mental health diagnosis or care.
Other steps for focused improvement include needs for expanded crisis care, the needs for more connected mental health services, and increased primary care training for autism interventions.
Floreo technology enabled services can serve as an intervention strategy to assist in addressing the needs of those affected autism services in mental health supports that are called for in this report. Families and advocates may find this report as a useful springboard to engage policymakers, providers, and community leaders to support further services by addressing the findings of the report.
Rast, Jessica E., Garfield, Tamara, Roux, Anne M., Koffer Miller, Kaitlin H., Hund, Lisa M., Tao, Sha, Kerns, Connor M., Rosenau, Kashia A., Hotez, Emily, Anderson, Kristy A., Shattuck, Paul T., and Shea, Lindsay L. National Autism Indicators Report: Mental Health. Philadelphia, PA: Life Course Outcomes Program, A.J. Drexel Autism Institute, Drexel University, August 2021.

The Commonwealth Fund (2020). Using Telehealth to Meet Mental Health Needs During the COVID-19 Crisis. Retrieved July 6, 2021 from https://www.commonwealthfund.org/blog/2020/using-telehealth-meet-mental-health-needs-during-covid-19-crisis
---
Research study opportunity
FROM OUR PARTNERS AT CHOP
Our partners at Children's Hospital of Philadelphia are recruiting participants for a compensated survey about autism and police. Please consider participating or sharing with others who might be interested!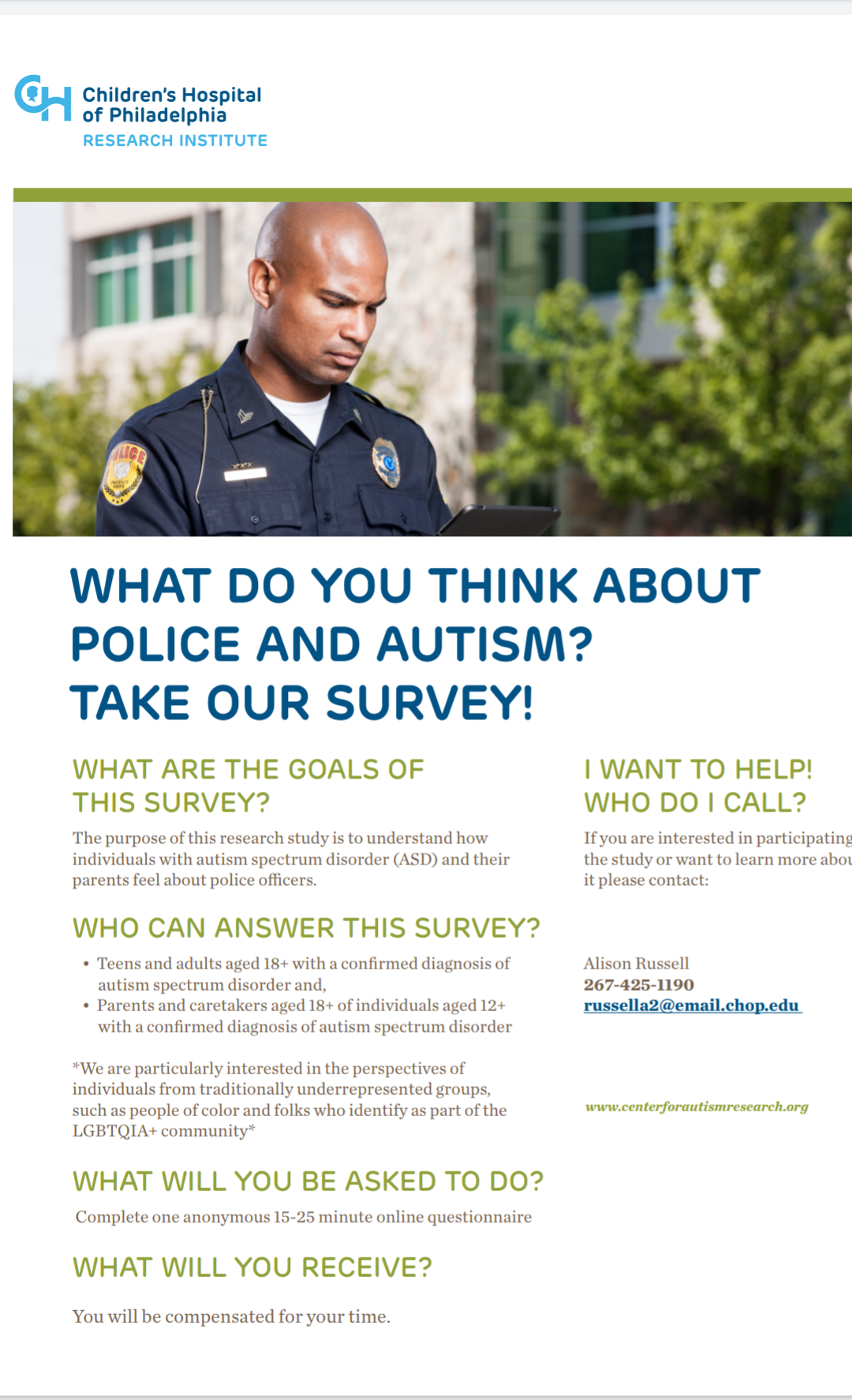 What have we been reading this week?
NEWS ROUND-UP