The new year brings with it time for reflection and we want to hear from you! What is the most important issue or challenge you expect to face this year? How can we help you to embrace or solve it? Let us know how we can support you in 2022! And we would love to talk about adding Floreo to your practice, school district, or family. We care about improving outcomes for all Learners, let us know how we can help yours! Email us anytime at info@floreotech.com.
---
In case you missed it...
NEW REPORT IN YOUR FLOREO PORTAL
If you haven't checked it out yet, the Floreo portal is available to all of our customers to generate reports on their Learners' activity with Floreo. Use the same username and password that you use for the Floreo app to log in to the Floreo portal. Check out the new progress reports available for your Learners. Your organization's Floreo admin will be able to use this new report to show the progress your Learner has made in the different lessons they have played.
Let us know what other reports you would like to see us build for your portal!

---
Events

UPCOMING SERIES WITH SAM FARMER
Author, Floreo advisor and our Lead Self Advocate, Sam Farmer, announced a series of six virtual presentations which "are geared towards providing ideas and insights as to how autistic and neurodiverse individuals may be able to carve out better lives for themselves." Hosted by the Northeast Arc in MA, we hope you are able to join for one or more event!
Neurodiversity and the Workforce: Tips for Workplace Success (1/19 from 6:30-8:00 ET)
This workshop will provide ideas and insights into how neurodiverse individuals may be successful in looking for work, getting hired and thriving in the workplace once hired.
Register here.
The Regrettable Necessity of Labeling Autism as a Disability (2/2 from 6:30-8:00 ET)
This workshop will delve into the upsides and downsides of describing autism as being a disability. There are valid reasons for this labeling, though at the same time, the label can do harm, unless strategies which will be discussed are used to keep it from doing harm.
Register here.
Tips for Rising Above Bullying (2/16 from 6:30-8:00 ET)
This workshop will discuss why bullying is a "regrettable inevitability" as well as several strategies as to how one can survive it and not let it compromise self-esteem.
Register here
.
---
Medicaid update
ARE YOU LOOKING FOR MEDICAID-BASED SOLUTIONS?
Are you in Maryland, Wisconsin, Washington DC, or New York state? Reach out to us about Medicaid-based Floreo solutions.
---
Research study opportunity
FROM OUR PARTNERS AT CHOP
Our partners at Children's Hospital of Philadelphia are recruiting participants for a compensated survey about autism and police. Please consider participating or sharing with others who might be interested!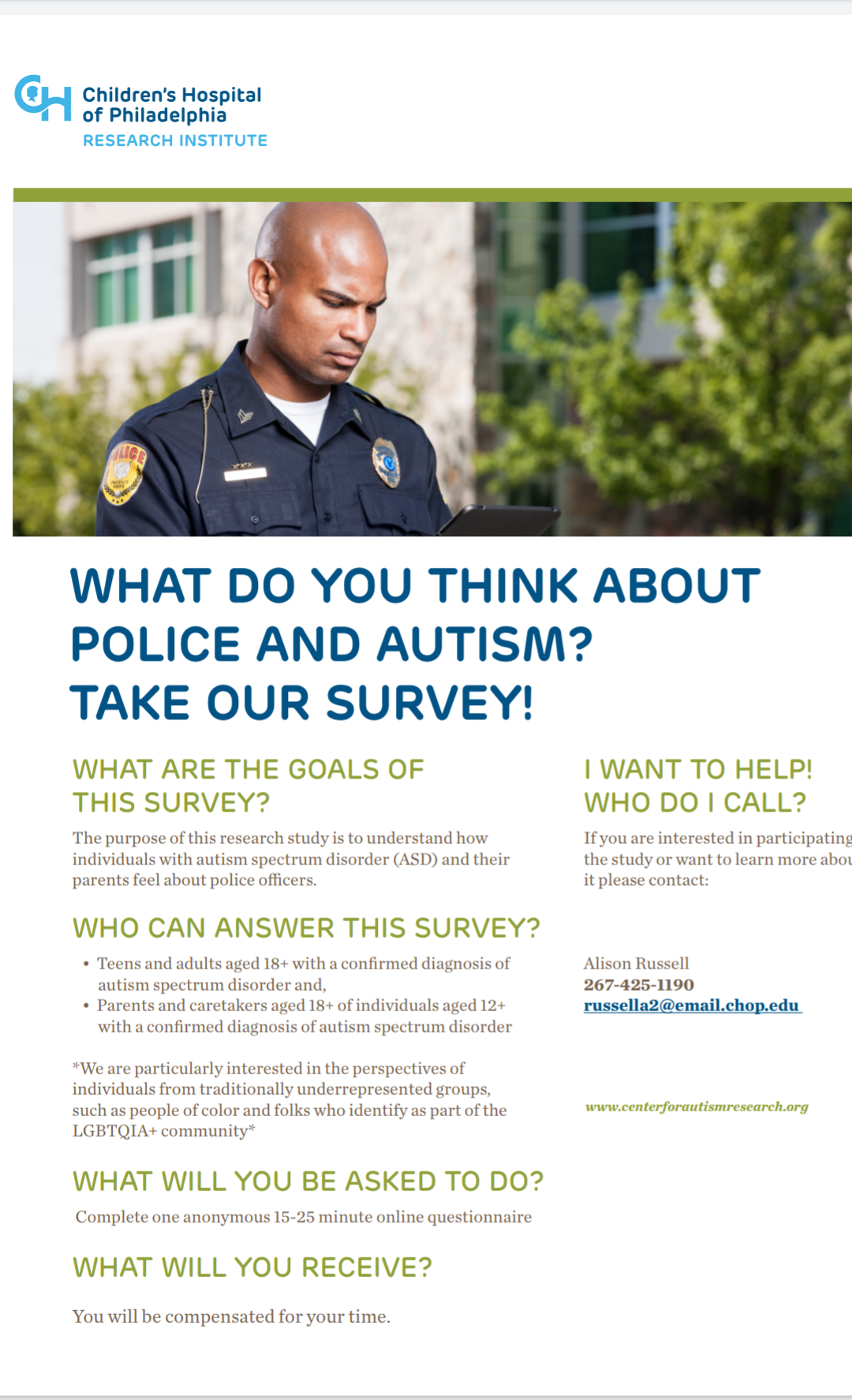 What have we been reading this week?
NEWS ROUND-UP