We are excited to announce that we recently opened the first Floreo clinic at Wonder Years Pediatrics in Rockville Maryland. We are leveraging our virtual reality technology to provide Speech Language Pathology services including social competence, language development, mindfulness, communication-based skills and much more. We can accept a variety of payments including direct pay, Medicaid Fee for Service, and we can provide out-of-network receipts as well. If you are in the Rockville area and are interested in in-person direct services through our new clinic, please email clinic@floreotech.com. We can't wait to meet you!
---
Medicaid update
FLOREO'S MEDICAID JOURNEY CONTINUES
Floreo started its effort last year to begin providing direct services as a Medicaid provider for family consulting services under the Medicaid Autism Waiver program in Maryland. Since then, Floreo has also obtained Medicaid provider status in DC and Wisconsin and we continue to look to expand to other states!

Floreo's Director of Therapy Content, Rita Solórzano MA, CCC-SLP recently presented details about using autism waiver benefits for Floreo to a group of Wisconsin service coordinators, service providers, and families. Please share the video with your Wisconsin connections!

Special thank you to Wisconsin mom and service coordinator, Meghan Gerarden, for sharing her personal experience with Floreo!

We are working hard to expand our Medicaid services to other states. If you can help, we would love to hear from you!

In addition to Medicaid, Floreo has just become a participating provider in Carefirst BlueCross BlueShield and Carefirst BlueChoice in the Maryland region. We are currently accepting Carefirst clients.
---
Stakeholder participation in the design of future monitoring technology for autism applications
A SUMMARY BY DR. GREGORY DOWNING
Dr. Downing of Innovation Horizons is a consultant to Floreo and a community pediatrician.

A common concern for parents, caregivers and teachers of children with autism is their physical safety. Evidence indicates that the majority of children with autism spectrum disorder experience some form of behaviors that can cause harm and have physical consequences. Some researchers have suggested that monitoring technologies can assist in managing self-injurious behavior (SIB). Research has clearly shown that when affected children and those caring for them participate in the design and testing of new technologies that better products emerge and lead to more favorable long-term adoption. A new research reports features findings from families in Virginia that serve as guideposts for the design of engineering solutions to avoid SIB.

The research team led by Dr. Rupa Valdez conducted in depth interviews of 39 parents and teachers related to children of ages 6 to 26 years of age. The interviews focused on the potential use of 2 existing forms of monitoring technology with the potential application for observing behavior to prevent SIB. In the study, the stakeholders where shown examples of accelerometers representing wearable devices, and a combined depth and video camera. In the study, the research team conducted interviews and administered questionnaires to the stakeholders to gain their personal perspectives.

Researchers found that there were 7 major themes of response that the participants reported to be important to include in the design of monitoring tools. Overall, their findings showed that technology designed to address SIB should prioritize the transferability of physical technology and behavioral data as key features to highlight. In addition, engineering solutions should address safety, durability, and sensory aspects of technology. Among their recommendations were to identify 'triggers' of self-injurious behavior that could be antecedent features that could be designed into the technology. Detecting emotional responses that preceded SIB events were also seen as high value. Observers found that there wide variations in preferences for sensory technologies and that accommodations should be made for both wearables and camera recordings and their use could be applied in different scenarios effectively.

The stakeholders had specific guidance that they provided regarding the two forms of technology. For example, video and audio recording technologies can be integrated into existing communication portals leveraged by teachers and parents during in school hours. Observers also noted that a key aspect of wearable tool development is the sensory stimulation that the devices elicit. For example, they highlighted that 'soft' technologies (non-electronic) such as 'chewy bands' had beneficial effects at redirecting self-biting behavior. Overall, the researchers suggested that engineers place an emphasis on building soft technologies into hardware to accommodate favorable sensory impressions of children users of them.

This study shows that technology solutions for improving safety among children with autism starts with gaining the perspective of those most likely to benefit from its use. Placing user-centered design into focus in considering new safety systems brings better insights and a sense of empowerment to the stakeholders.

Floreo embraces the findings from this study and places a high value on the user experience in its technologies and finds studies of this type to underscore the importance of engaging children and families in the design of their products and services. At Floreo, parents and teachers are encouraged to provide feedback on usability and new concepts for learning and social skills development. Here, the engineering and product design teams often acknowledge the meaningful benefits of shared experiences between caregivers and children with autism and strive to turn those concepts into more effective solutions for their users.

Cantin-Garside, K.D., Nussbaum, M.A., White, S.W., Kim S., Kim C.D., Fortes, D.M.G., and Valdez, R.S. Understanding the experiences of self-injurious behavior in autism spectrum disorder: Implications for monitoring technology design. Journal of the American Medical Association 2021; 28:303-310.
---
Research study opportunity
FROM OUR PARTNERS AT CHOP
Our partners at Children's Hospital of Philadelphia are recruiting participants for a compensated survey about autism and police. Please consider participating or sharing with others who might be interested!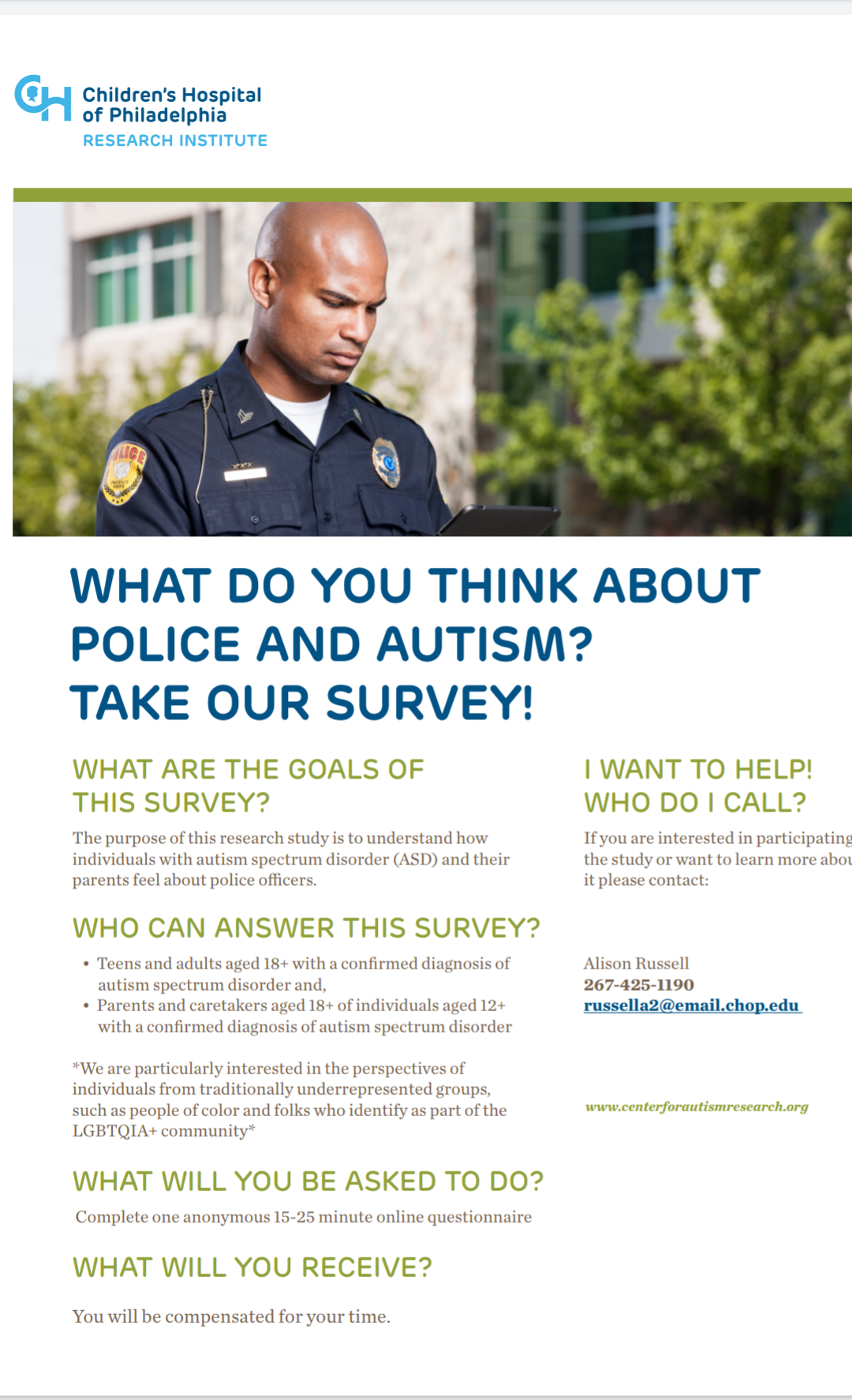 What have we been reading this week?
NEWS ROUND-UP