A very happy new year to you from all of us at Floreo! We are looking forward to this year with optimism and hope you are too. Our team will be very busy with some exciting new projects, more events, and expansion to even more school districts, therapy practices, and nonprofits. We would love to welcome you to the Floreo family! If you are interested in learning more about how Floreo can fit in to your practice or classroom, please contact us at info@floreotech.com to set up time to speak with a member of our team.
---
Just released
NEW REPORT IN YOUR FLOREO PORTAL
If you haven't checked it out yet, the Floreo portal is available to all of our customers to generate reports on their Learners' activity with Floreo. Use the same username and password that you use for the Floreo app to log in to the Floreo portal. Check out the new progress reports available for your Learners. Your organization's Floreo admin will be able to use this new report to show the progress your Learner has made in the different lessons they have played.
Let us know what other reports you would like to see us build for your portal!

---
Tools & Tips

MAKE THE MOST OF YOUR FLOREO SUBSCRIPTION
One of our most frequently asked questions is whether the Learner will want to wear the headset in order to experience the immersive Floreo lessons. We recommend starting off slowly with small increments of time in and the headset, while the Coach makes sure the headset fits comfortably on the Learner's head. If needed, use IPD adjustment buttons on your headset to account for the Learner's head size and distance between their pupils.
As your Learner becomes accustomed to the headset, particularly if the Learner has trouble wearing it for more than a few seconds at a time, Floreo's Director of Therapy Content, Rita Solórzano suggests introducing music as part of the acclimation process: "The Coach could play a song that is enjoyable and familiar to the Learner and when the song is over, the Learner can take the headset off."
Check out this video for getting the headset ready for use with the Learner. Once you have the headset ready to go, watch this video for ideas for introducing the headset to even the most reluctant Learner. We would love to hear your ideas for introducing the headset to your Learner!
---
Other exciting developments in autism tech
NEURONA HEALTH IS OPENING UP THEIR WAITLIST
Fellow start-up Neurona Health is opening up their waitlist for their much-needed technology and service they are rolling out around Polygenic Risk Scoring ("PRS") for Autism Risk and early childhood monitoring to supplement what most parents get through pediatricians. PRS is a relatively new concept but as the data set grows, it will become an essential tool in identifying risks at birth. This combines big data, risk management and telehealth to make sure early intervention happens in any potential cases of autism. Thanks to the 1 in 5 Newsletter from Divergent Investments for the heads up!
---
Medicaid update
ARE YOU LOOKING FOR MEDICAID-BASED SOLUTIONS?
Are you in Maryland, Wisconsin, Washington DC, or New York state? Reach out to us about Medicaid-based Floreo solutions.
---
Research study opportunity
FROM OUR PARTNERS AT CHOP
Our partners at Children's Hospital of Philadelphia are recruiting participants for a compensated survey about autism and police. Please consider participating or sharing with others who might be interested!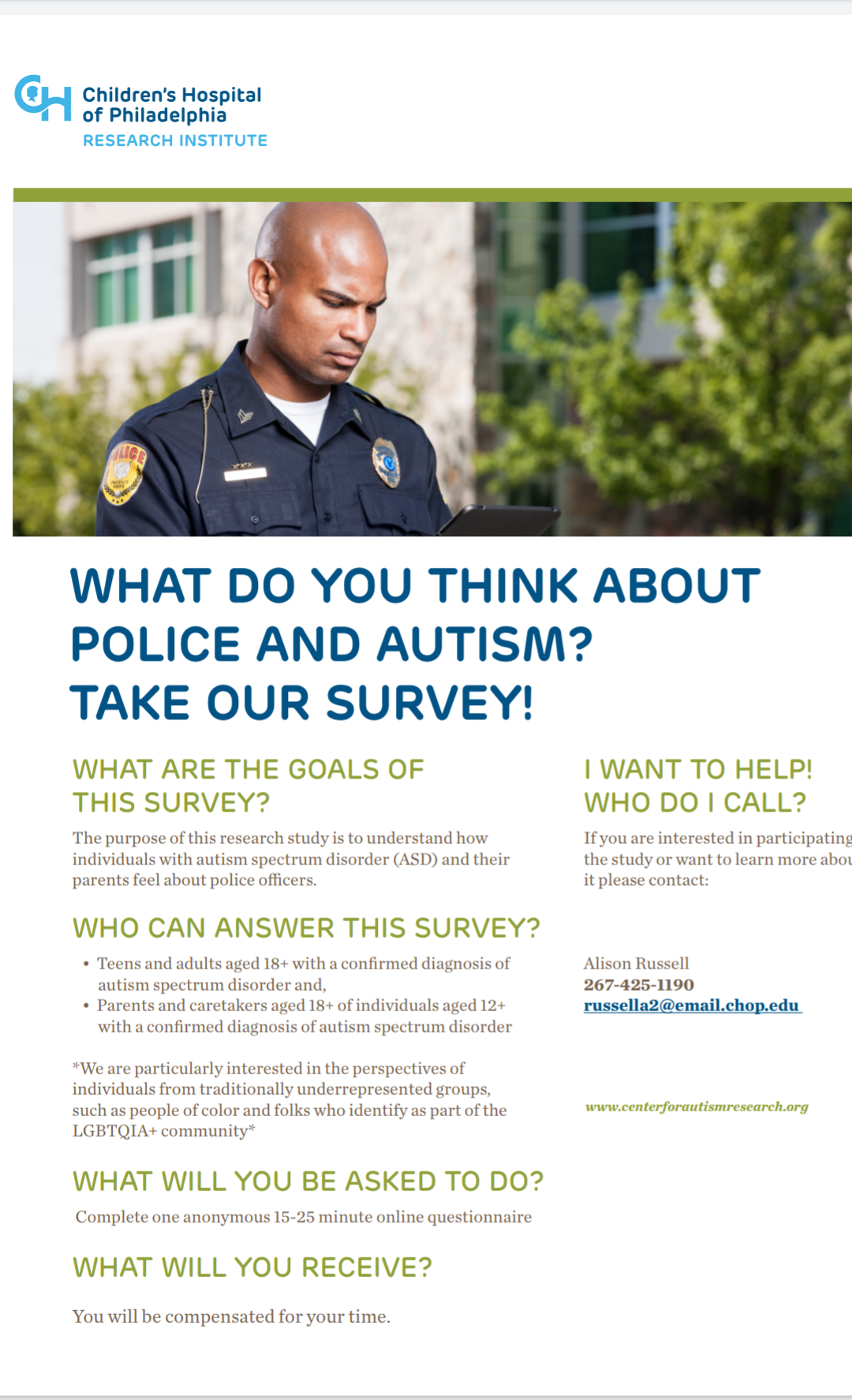 What have we been reading this week?
NEWS ROUND-UP