We are always saddened to read articles like this one regarding the research that "Children with neurodevelopmental disorders, such as autism spectrum disorder (ASD) and attention-deficit/hyperactivity disorder (ADHD), have the greatest association with bullying exposure." Articles like this really drive home the reasons we are so passionate about the content we are creating at Floreo. Our Banter vs. Bullying lessons give Learners the opportunity to practice recognizing, responding to, and diffusing different types of bullying situations from teasing all the way up to the threat of physical violence. Our immersive experiences give Learners the practice and tools that they need if they are ever in the unfortunate situation of being a target of a bully.
Our lessons are applicable for Learners of all skill levels, diagnoses (or lack there of), and challenge areas. The suite of Banter vs. Bullying lessons are just a small part of the ever-growing Floreo experience library. We have additional lessons that take place in school settings, as well as lessons in the community, and other engaging environments.
If you are interested in implementing Floreo in your school, district, or practice, please set up time to speak with a member of our team. Contact us.
---
Exciting news for virtual reality in healthcare

VIRTUAL REALITY CPTIII CODE
We are happy to announce that American Medical Association (AMA) has approved Floreo's request and issued a new industry-first Category III Current Procedural Terminology Code (CPT) Code for virtual reality technology to assist therapy.
This ground-breaking code will facilitate the use, adoption, and pathway for potential reimbursement of Floreo system expenses by your healthcare providers.
---

In case you missed it...

CHECK OUT OUR LATEST LESSONS
New Lessons: The Ride the Bus series: This is Your Bus, Wait for 2nd Bus, Destination Not on Schedule, With Other People, Unmarked Bus, Troubleshoot Missed Bus
Who it is for: Learners ages 15 and up (younger audiences could get a jump start on learning these skills as well)
What's new: These 6 lessons address different aspects of bus travel including locating the correct bus stop, finding the correct bus route for the desired destination, finding a safe place to wait, waiting for the correct bus, determining where to wait when other travelers are present, troubleshooting some common issues the Learner might encounter when traveling, and understanding how to pay for the ride. These lessons are among our most complex lessons yet, with tons of learning opportunities within each of the 6 lessons!
Consider pairing with: The Street Crossing lessons in Community & Daily Living for more practice crossing the street under different or changing circumstances.

Find these new lessons in the Community & Daily Living skill category once you have the latest version of Floreo! If you haven't yet had a chance to download the latest version of Floreo, it's a good time to do it! You can find it in the iOS app store by clicking this link. If you have Floreo rental equipment, make sure to turn it on, connect it to WiFi and let the update download before opening the app.
Reminder that you will need to have iOS 15 or later installed on your iPad and iPhone in order to download the latest version of Floreo.

If you haven't yet subscribed to Floreo, we would love to discuss subscription options with you. And if you or your staff would like to talk through the new content or any of the changes we've recently made, please reply to this email to set up time to speak to a member of our team!
---
Grant update

FUNDS AVAILABLE FOR SCHOOLS
Attention Schools and Districts in Texas: All Texas local education agencies are eligible to apply for grant funding to increase their capacity to implement innovative programs that effectively serve students with autism ages three through 21. It is a great time to implement Floreo in your district, school, or regional center with the help of this grant! Let us know how we can help support your efforts to secure funding through this grant.
---
Research study opportunity
FROM OUR PARTNERS AT CHOP
Our partners at Children's Hospital of Philadelphia are recruiting participants for a compensated survey about autism and police. Please consider participating or sharing with others who might be interested!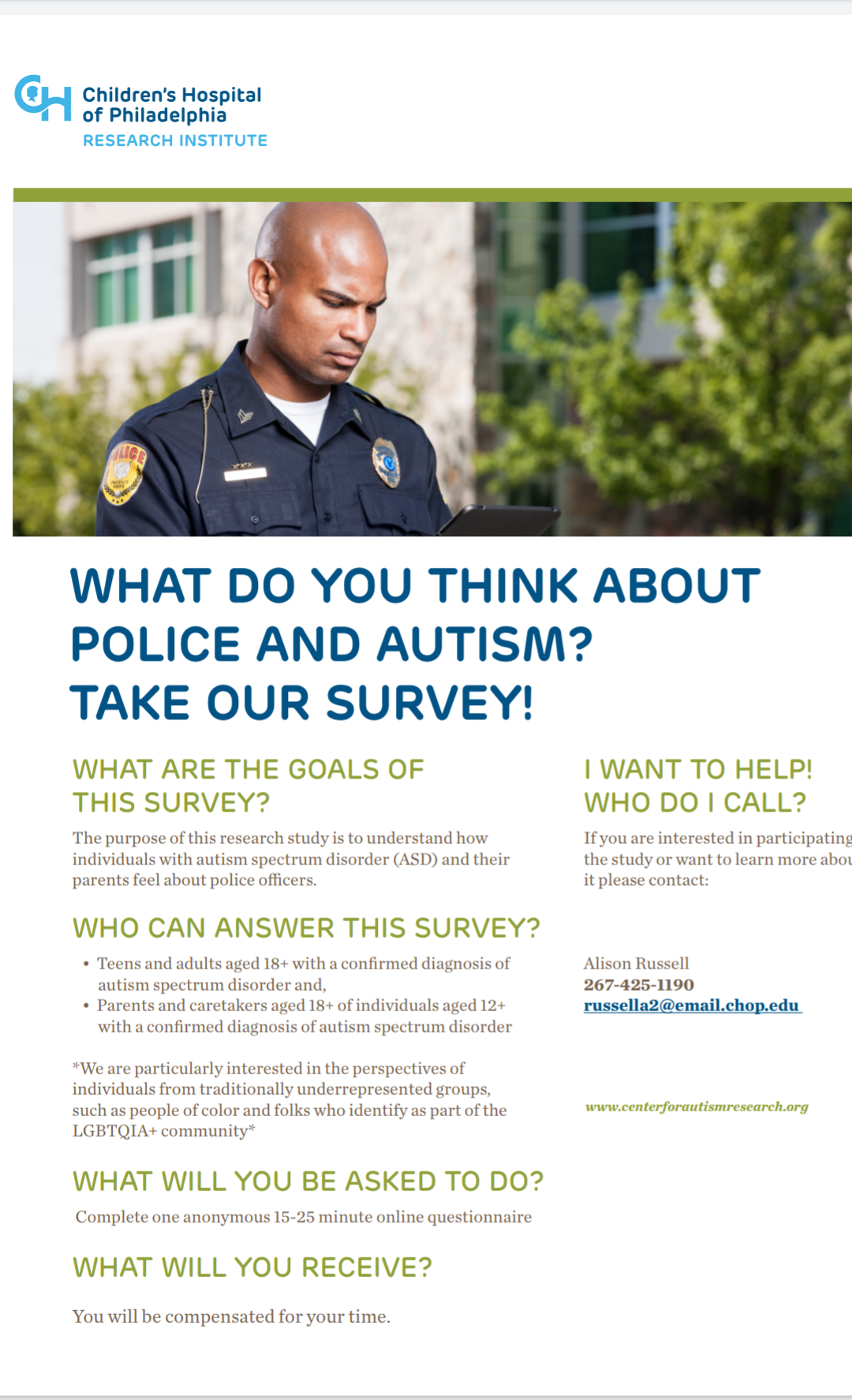 What have we been reading this week?
NEWS ROUND-UP