During this season of gratitude, we wanted to be sure to express to our beloved friends, loyal supporters, and of course our valued customers just how much you mean to us. Whether it is encouraging a teacher or clinician in your life to subscribe, following and interacting with our posts on social media, or just reaching out with a kind word, we thank you from the bottom of our hearts. Your support enables us to continue to build new, exciting, evidence-based content and expand our partnerships as we continue to grow.

We know this year has been one for the record books, and as a thank you to all teachers who are on the frontlines, we're offering a limited time subscription opportunity. For just $350, we will provide a six month, software-only subscription to Floreo that you can use with up to 4 Learners. This opportunity is only available for individual teachers: if you're interested in district-wide pricing, please email us at info@floreotech.com to get personalized pricing from a member of our team.

And, PS, DonorsChoose is running a promotion for Giving Tuesday. Submit your project to DonorsChoose before Giving Tuesday and starting at 7 am ET on November 30, 2021, they will be matching all donations by at least 50%. If you send us the link to your DonorsChoose project once it is live, we'll share it with our network as well.

Help your favorite teacher get Floreo by sending this post to them!
---
Floreo in the news
AUTISM WEEKLY PODCAST: TIPS FOR WORKPLACE SUCCESS
Author, Floreo advisor and our Lead Self Advocate, Sam Farmer, was featured on The Autism Weekly podcast to talk about his experience navigating the workplace.

Check out the podcast! And don't forget that Sam has been running a special deal on his book A Long Walk Down a Winding Road to celebrate the 2nd anniversary of its release. Get the reduced the purchase price for the Kindle e-book edition or the paperback edition from now through the end of November.
---
Medicaid update
ARE YOU LOOKING FOR MEDICAID-BASED SOLUTIONS?
Are you in Maryland, Wisconsin, Washington DC, or New York state? Reach out to us about Medicaid-based Floreo solutions.
---
Research study opportunity
FROM OUR PARTNERS AT CHOP
Our partners at Children's Hospital of Philadelphia are recruiting participants for a compensated survey about autism and police. Please consider participating or sharing with others who might be interested!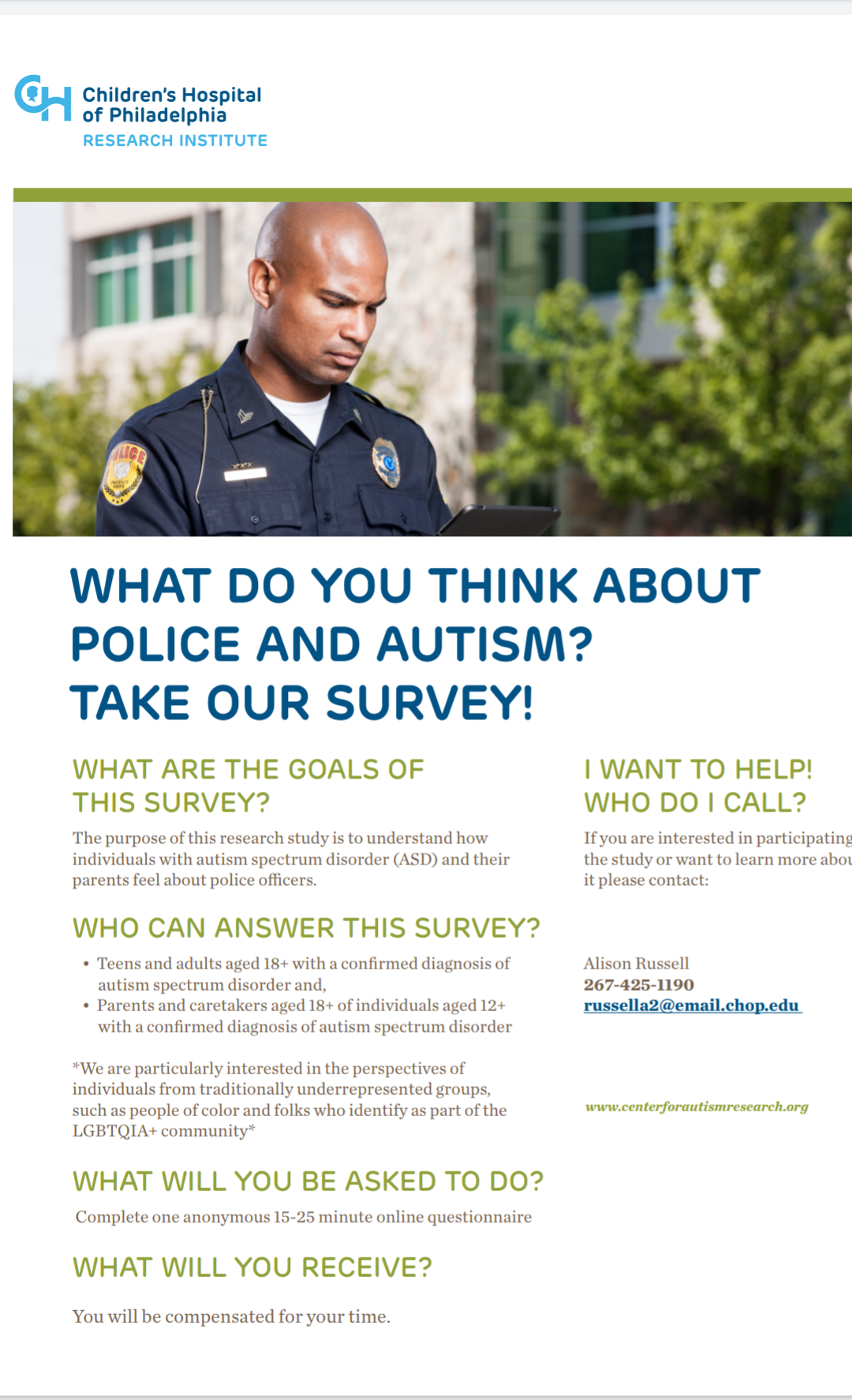 What have we been reading this week?
NEWS ROUND-UP