We are collecting stories about the different ways you have used Floreo! We have already heard some exciting anecdotes from current customers:
Floreo's

Crossing the Street

lessons were helpful to a client with PTSD who struggled with leaving their house
The body awareness activities in

Crystal Cave

uncovered one client's struggle with moving their toes: the OT was not sure how she would have noticed it without the specific instruction to raise and lower toes
Find a seat in the classroom

has sparked a number of conversations about why we might choose to sit next to a particular person depending on their mood and our own mood
Please share your story with us too! We would love to hear what was unexpected for you! Email us at info@floreotech.com
---
New Partnerships
THE FLOREO COMMUNITY CONTINUES TO GROW
A warm welcome to our newest partner: North East Educational and Developmental Support Center (MA). We look forward to helping you serve the needs of your students and community!
Are you ready to join the Floreo family? We would love to discuss implementation in your school district or practice!
---
Upcoming event
WORKPLACE STRATEGIES
On April 27 at 7:00pm, Floreo advisor and Lead Self Advocate, Sam Farmer, will be giving a presentation co-sponsored by Transitions Life Center, a special needs community in Ocala, Florida and the University of Florida Center for Autism and Related Disabilities. Sam will discuss strategies for workplace success, workplace behaviors worth adopting as well as avoiding, and the reasons why it makes good sense for companies to pursue workplace neurodiversity.
Register for the free Zoom event!
---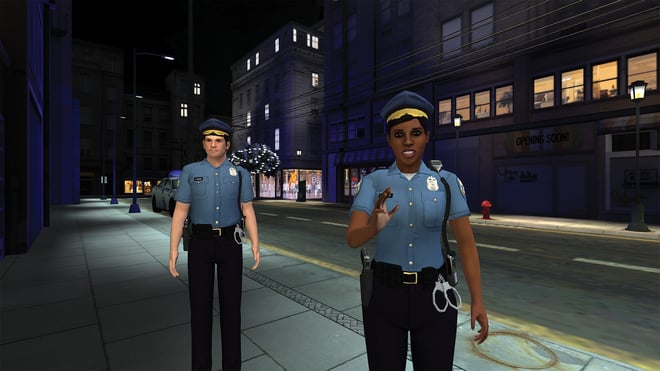 Tools & Tips
BEST PRACTICES FOR USING FLOREO
You may already know that Floreo's Police Encounters lessons are the lessons that we have been developing with the Children's Hospital of Philadelphia Center for Autism Research. But did you know that there are two different types of police encounters lessons within our lesson library? Our original Police Encounters encompass different lessons and provide a linear experience in each lesson. The Coach will always know what the expect as far as the street scene the Learner experiences, whether it is day or night, and the types of greetings and questions the police officers speak to the Learner. As the Coach, you'll also become familiar with the different auditory and visual distractions in each of the 19 lessons.

When you are ready to take things a step further, try out the Choose Your Police Encounter, a randomized experience that allows the Coach to choose from different targeted behaviors to practice, change the difficulty level of the experience, and change the way the police officers perceive the Learner (as an adult or as a child). In addition to much more randomization built in, the police officers in the Choose Your Police Encounter are more true to life: if the Coach taps the "poor response" button on the iPad, the officer will start to talk in a more stern tone of voice with the Learner. Check out the "prompt" button on the Coach's iPad if you need to help prompt your Learner via the police officer during the experience.
Read more about all of our lessons in our lesson library!
---
Research study opportunity
FROM OUR PARTNERS AT CHOP
Our partners at Children's Hospital of Philadelphia are recruiting participants for a compensated survey about autism and police. Please consider participating or sharing with others who might be interested!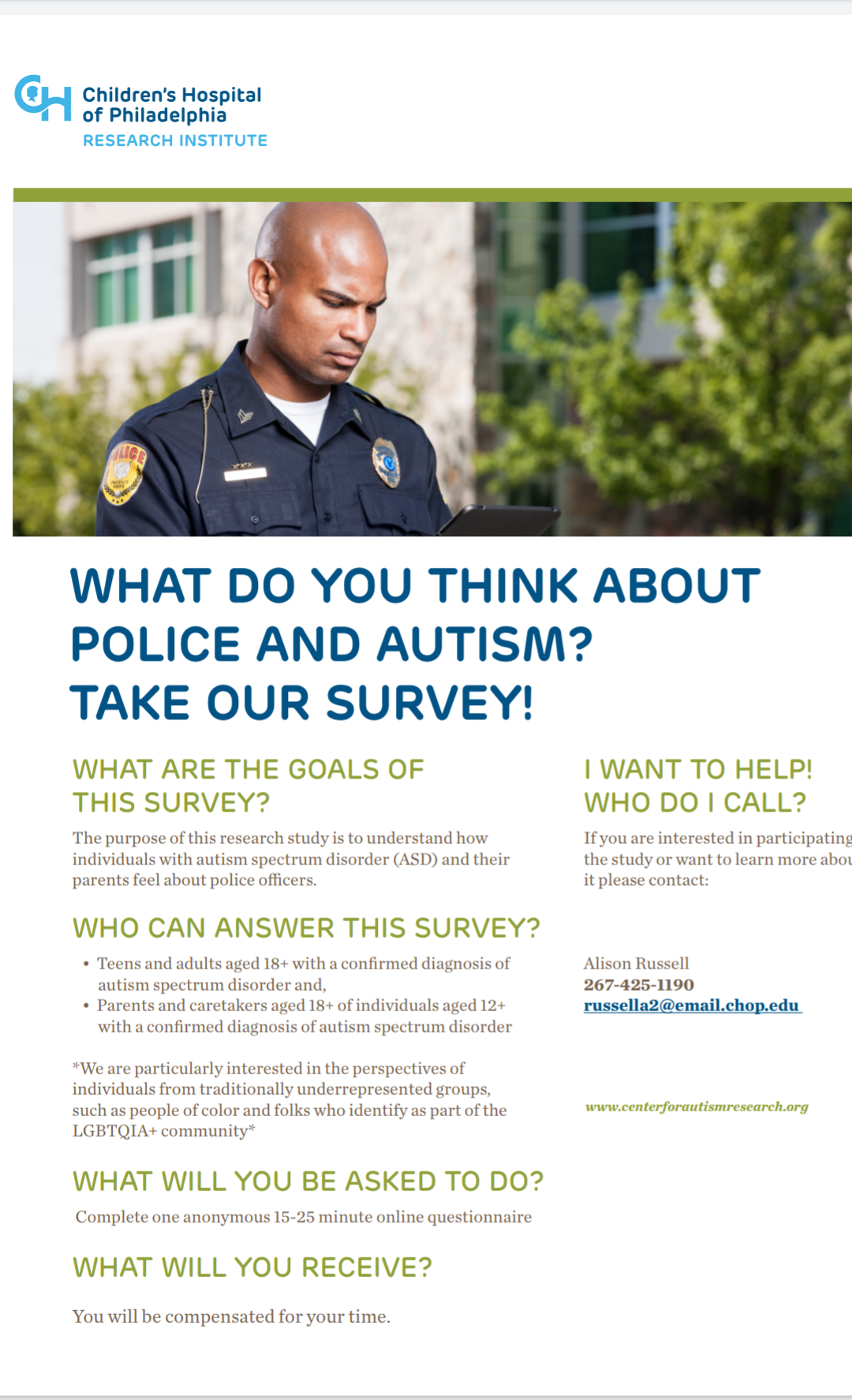 What have we been reading this week?
NEWS ROUND-UP